Let's Get Creative!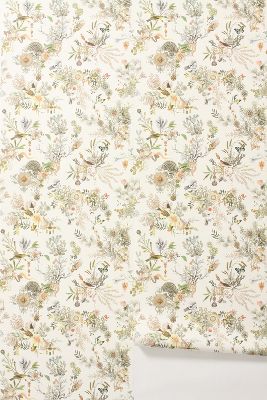 Want to add some instant drama to a space?
Wallpaper can make quite a statement, particularly in a smaller space such as a powder room…but another application to consider would be as the backdrop of bookshelves.  This is especially powerful if you don't have a great deal of accessories or books to display.  The small punch of pattern and color is a fantastic way to add visual and creative interest to your space.
I came across this Topsy-Turvy Wallpaper from Anthropologie.  Its quirky yet traditional design allows for a bit of playfulness, but it still has the elements of sophistication and subtlety.  Its sure-strip backing allows for paste free application and easy removal, which is wonderful in that it can be a temporary decoration…when you become sick of it, take it down!
Care to be a bit more daring and creative?  Consider this application if you have glass kitchen cabinets or exposed cabinetry in your kitchen…Allowing it to be your backdrop for all of your dishes and glassware would read as quite stunning.
---